Holdaplate ... The Perfect Plate for any event.
20 March 2023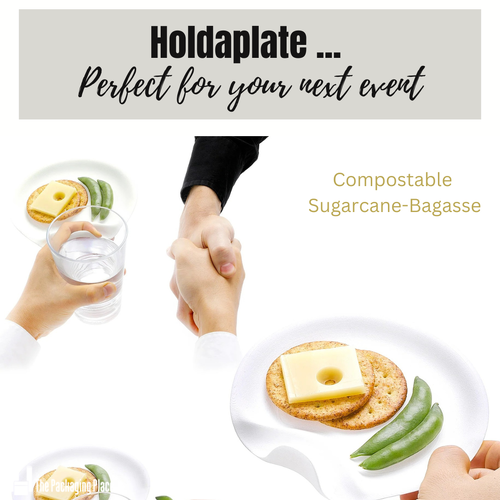 The multi-patented and award-winning Holdaplate elegantly solves a common dessert cocktail plate problem: holding both a plate and cup, one in each hand, while simultaneously attempting to eat one's food or shake hands. No more juggling at cocktail parties! A subtle contour in the Holdaplate's periphery allows for a cup, glass, can, or bottle of any size to easily nestle alongside, held in place by the user's index finger. Forget hanging stemware awkwardly off the side of those cocktail caddies — those days are over. Super comfy and easy to use, the Holdaplate comfortably holds up to one pound of food, supported by both the side of the cup and the user's fingers underneath. Eat, greet, finally!
HOLDAFEATURES
Temporarily free a hand for eating or shaking hands.
Beautiful, 6" cocktail plate shape.
Usable left- or right-handed, all finger sizes.
Index finger stabilizes plate.
Weight support by bottom fingers.
Glass or cup remains in your hand.
Use with any size cup, can, bottle or wineglass.
Other Features
Eco-friendly materials
Stackable